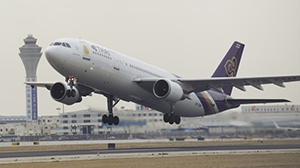 Our airfreight solutions offer you the flexibility to meet a variety of transit time requirements while allowing you to manage your transportation costs effectively. Through our extensive network around the world you have access to all your markets.


Our airfreight professionals work closely with our customers to develop an airfreight program that best meet their unique requirements in terms of capacity,frequency and transit time. The program also manages our customer's datas and make available to them anytime,anywhere, and any way they want it.


Our Preferred Carriers Program make our strategic partnerships with airlines and provide access to whatever capacity you need at rates you can afford and transit times that meet your shipment requirements.


Features


| | |
| --- | --- |
| · | Partner with mutiple airfreight forwarder across and within each trade lane |
| · | Authorize and arrange all shipments |
| · | Provide clear instructions to all parties in each airfreight transction |
| · | Ensure that documents are completed |
| · | Ensure that cargo is delivered to the airfreight forwarders |
| · | Provide destination service when required |